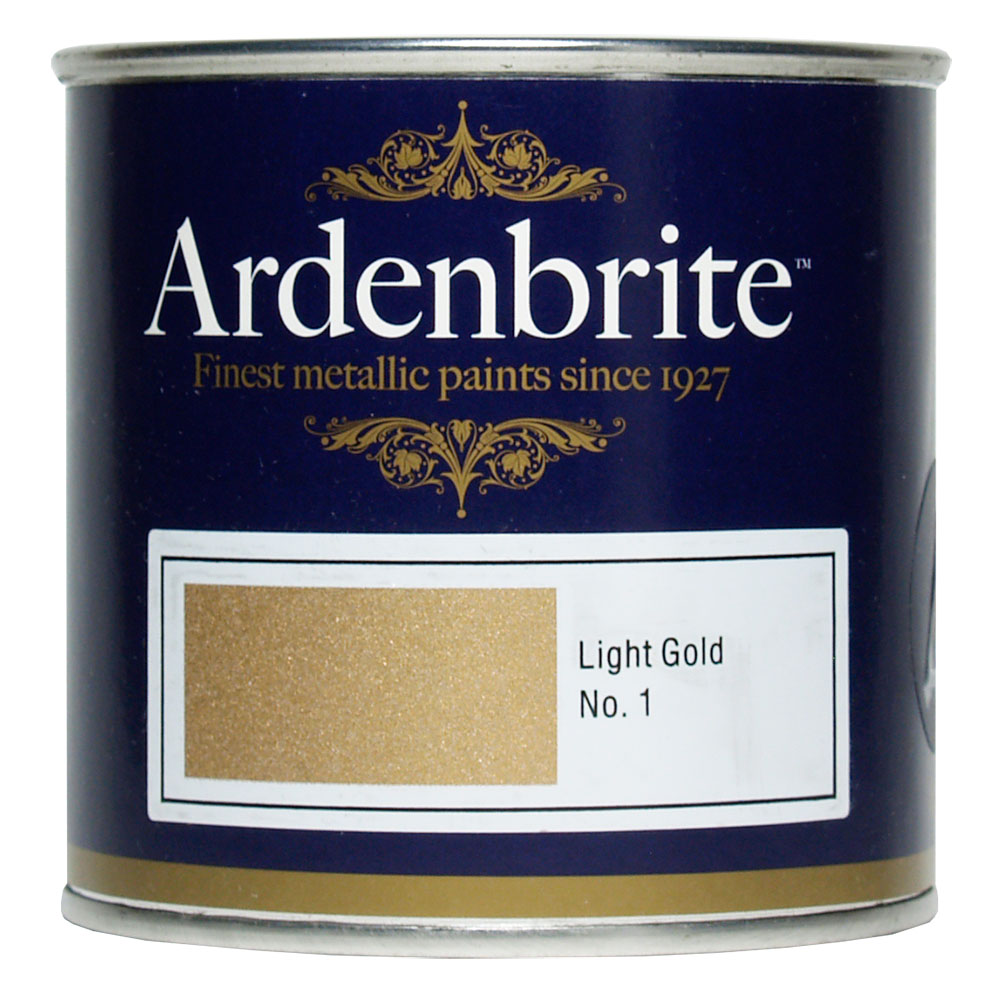 Ardenbrite : Metallic Oil Paints
In stock
SELECT A COLOUR TO VIEW MORE INFORMATION
INFORMATION
Ardenbrite Metallic Paint is a high quality, solvent-borne, metal pigmented paint. It is suitable for interior and exterior use on plaster, paper, wood, plastic, ceramic, previously painted or primed metal, previously painted and Cementitious areas.
Ardenbrite Metallic Paint is also suitable for painting bridges, lifts, lamp posts and balustrading as well as domestic items such as plasterwork, radiators, doors, iron gates, railings, fencing, ironwork and metalwork. Overcoat with 2 coats of Ardenbrite Protective Glaze when used outdoors, or, one liberal coat of Ardenbrite Protective Glaze for internal areas where the finished surface is likely to handled or knocked. Use Ardenbrite QD Base Coat as a primer and adhesion promoter where necessary.
The fast drying formulation enables the system to be applied quickly with minimum disruption and provides an excellent alternative to traditional methods of gilding – the Sovereign Gold No.8 is established as the only acceptable substitute for gold leaf and is easy applied – at a fraction of the price.
Application method: Conventional spray application is preferred for larger flat areas to obtain the best uniform appearance, Brush or roller application is only acceptable for smaller or detailed areas. Approx coverage is 12 square meters per litre.
Methylated spirits should be used to thin the paints and to clean your brushes.
Unique and classical decorative gilt finish
High quality liquid metal coating
Practical – easily applied and fast drying
Versatile – wide range of applications
Suitable for internal and external use
A recommended alternative to this paint is Tixe Rich Gold paint. Find it here
PRODUCTS RELATED TO THIS ITEM
LATEST FROM THE BLOG
03rd September 2023
Classical Iconography Institute
Gold leaf has many uses across a broad range of historic and traditional art forms, one of the oldest of these is...
18th May 2023
Hertford Art Society
This year marked the Hertford Art Society 70th Open Exhibition since the society was formed in 1953. The society is made up...
12th May 2023
NEW PRODUCT – Signwriting Kit Update
Choosing you first signwriting materials can seem over whelming when there are so many options so we have launched three new sign...
Hooray!
Product added to basket!