Below are a selection of workshops that are currently running. If you have any suggestions of other workshops/classes please email them over to Rachel at [email protected]
Wayne Tanswell – Weekday/Weekend Courses
Wayne is an experienced tutor and author of multiple signwriting tuition books including 'Wayne Tanswell : Introduction to Traditional Signwriting' which is available to buy at Handover.
Wayne teaches students of all abilities from beginners to professional level.
One day courses are available weekdays and on Saturdays from 9am – 4pm. If you are interested in booking a place, follow the below link to his website.
Find out more:
waynetanswell-signwriter.co.uk/courses/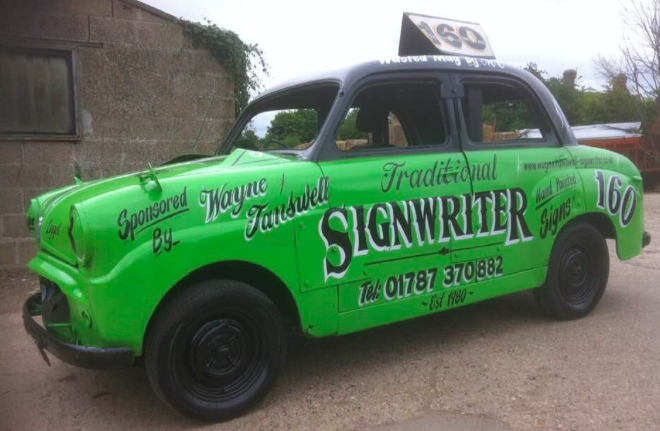 Bespoke Signs – The Sign Painting Academy
This is a year-long subscription to an online course full of resources and tutorial videos!
The course covers all aspects of signs including:
– Brush Skills,
– Casual, Roman, Script, and Block lettering,
– Gilding, Glasswork
– Shading techniques
– Blending 
– Pictorials 
And much more!
Course attendees have the opportunity to buy a discounted kit for this course, as well as having 20%  off their first online order with A.S Handover
For course details and to book visit – bespoke-signs.com/the-signpainters-academy
See below for a full introduction to what you can expect in this course:
 Bespoke Signs – The Sign Painting Academy – 26 Letters Tutorials
From Paul:
The 26 Letters is, as you would imagine, a series of letters forming the alphabet. Within these 26 demonstrations you will be shown a wealth of knowledge! The series is designed as a learning tool for people who are already studying signpainting, who want to take their skills to the next level.
It's also developed for you if you are just starting out. It's an an invaluable tool which you can use to fastback your skills, helping you towards your dream of becoming a pro signpainter!
In a nutshell if you are to learning to paint signs. This is your new encyclopedia! The easiest way to learn a skill is to watch an experienced pro in that field demonstrating time served techniques.
Each letter is hand-painted using various techniques, tips and tricks which I have learnt over my 33 years of being a signpainter. Some of these where happy accidents which then came to be common practice in my workshop. Most of the things I show you you can't learn from books as they simply aren't in them.
All the demonstrations are filmed in realtime with me commentating as I'm painting.
For course details and to book visit – thesignpaintersacademy.com/the-26-letters/
David Smith Online Workshop – New!
We are very excited to announce Online classes by David Smith.
From advanced gilders to beginners, this new group will have the answers there. This will be a gilding community you'll want to be part of going forward.
Register for information at www.davidadriansmith.com