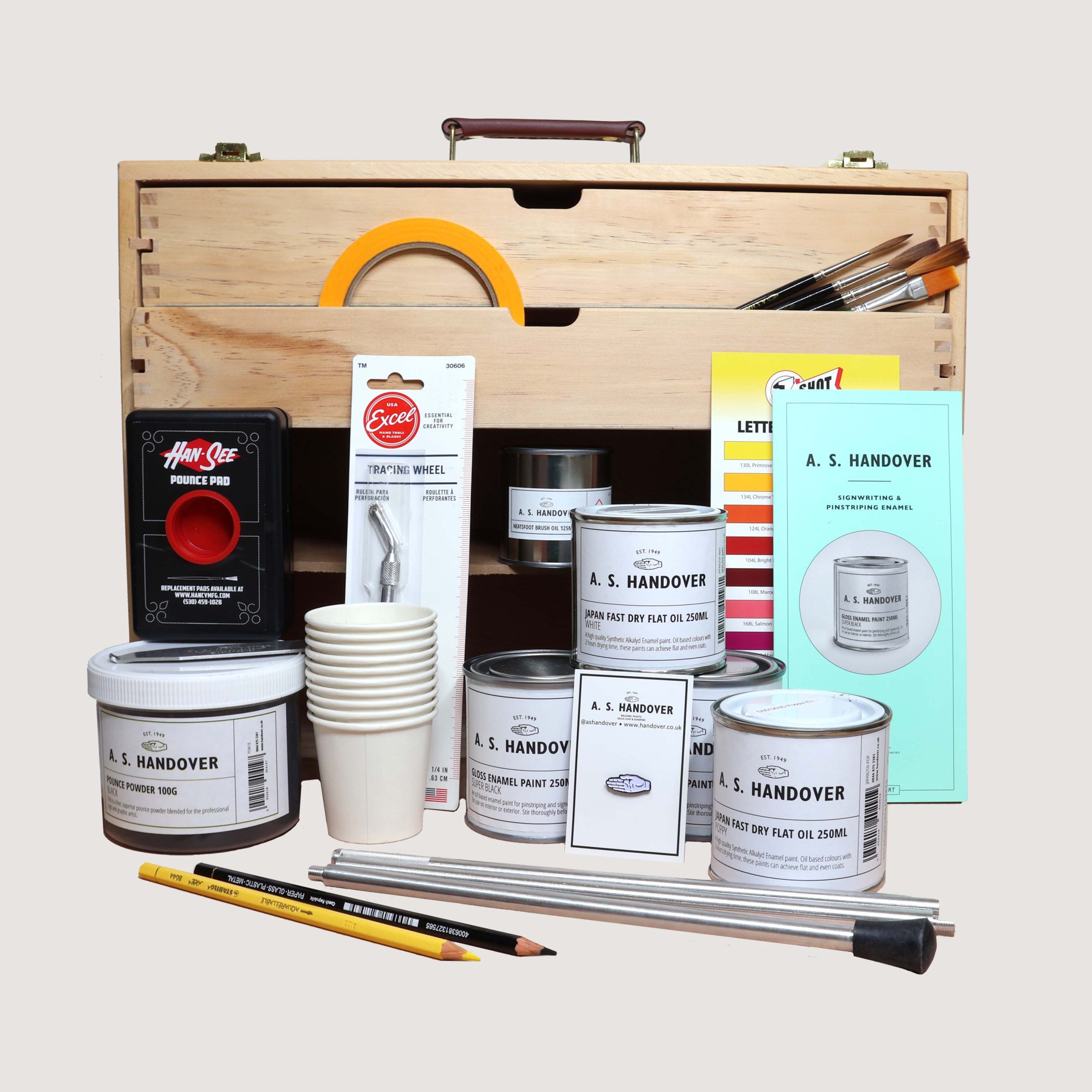 Handover : Extensive Signwriting Kit with Wooden Kit Box
Product code: SIGNKIT6
Contents may vary, items may be substituted for others of equivalent or greater value
In stock
Availability: 11 in stock
INFORMATION
Kit Contents
3/8x30in Round Aluminium Mahlstick
Handover : Signwriting & Pinstriping Enamel: Turquoise : 250ml: Gloss : By Road Parcel Only
Handover : Signwriting & Pinstriping Enamel: Super Black : 250ml: Gloss : By Road Parcel Only
Handover : Fast Dry Flat Oil Colour 250ml : White
Handover : Fast Dry Flat Oil Colour 250ml : Poppy
Handover : Paper Dipper Cup 4 oz x 10 cups
Handover : Sable Chisel Writer : # 4
Handover : Series 2107 Synthetic Flat One Stroke Brush : Green Handle : 1/2 in
Handover : Series K : Synthetic Sable : Chisel Edge Signwriting Brush: Size 7
Handover : Sable Pointed Writer # 4
Hancy :Pounce Powder : 100 g : Black
Hancy :Pounce Pad
Pounce Wheel : 1/4in
Handover : Yellow Low Tack Lining Tape : 1/4in : 6mm x 40m
Neatsfoot oil : 125ml : For Kits Only
Stabilo : All Surface Pencil : Black
Stabilo : All Surface Pencil : Yellow
Handover : Paint Tin Opener : Metal
Handover : Enamel Badge : Hand
Handover : Wooden Kit Box 45 x 35 x 20cm
Handover : Signwriting & Pinstriping Enamel: Colour Chart
1Shot : Colour Chart
PLEASE NOTE: Contents may vary, items may be substituted for others of equivalent or greater value.
Due to shipping restrictions we cannot ship this item outside of the UK.
SIGNKIT5 can be shipped worldwide.
PRODUCTS RELATED TO THIS ITEM
LATEST FROM THE BLOG
03rd September 2023
Classical Iconography Institute
Gold leaf has many uses across a broad range of historic and traditional art forms, one of the oldest of these is...
18th May 2023
Hertford Art Society
This year marked the Hertford Art Society 70th Open Exhibition since the society was formed in 1953. The society is made up...
12th May 2023
NEW PRODUCT – Signwriting Kit Update
Choosing you first signwriting materials can seem over whelming when there are so many options so we have launched three new sign...
Hooray!
Product added to basket!