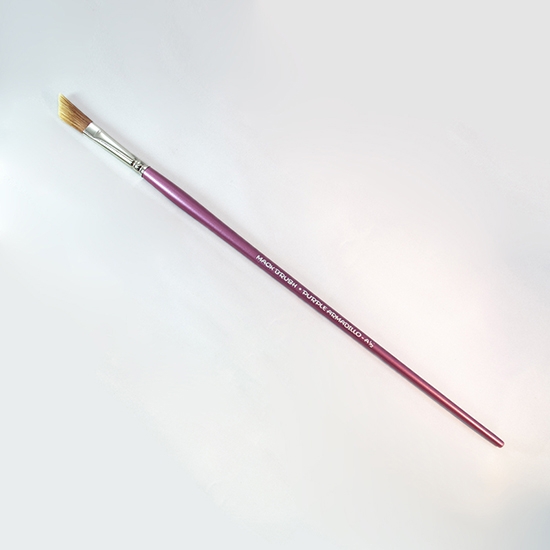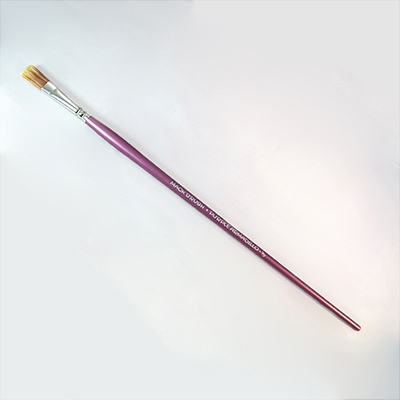 Mack : Purple Armadillo Fitches : Straight / Angled
In stock
SELECT A COLOUR TO VIEW MORE INFORMATION
INFORMATION
This brush is another collaboration between Mack Brush and Scott "Cornbread" Lindley. The hair that was chosen is a Dupont Tymex synthetic. It is cup chiselled by hand with a tip of a natural bristled brush. This brush is offered with a square or angled end. Strong but flexible synthetic hair gives the artist a great workhorse on rougher surfaces. The brush is offered in sizes ¼", ½", ¾" and 1", either slanted or straight chiselled hair.
This series is a full synthetic filament mixture.
"If you're looking for a brush that's tough and works great on rough surfaces like brick and block the armadillo is what you need. It also works fine on smooth surfaces. Its synthetic bristles holds its shape and delivers paint to the surface like a champion. Easy to clean up and works great with acrylic based paint. It's great for pictorial work and excellent for blending paint on rough surfaces. If the surface is rough then you need something tough and the Purple Armadillo will help you get the job done."
PRODUCTS RELATED TO THIS ITEM
LATEST FROM THE BLOG
03rd September 2023
Classical Iconography Institute
Gold leaf has many uses across a broad range of historic and traditional art forms, one of the oldest of these is...
18th May 2023
Hertford Art Society
This year marked the Hertford Art Society 70th Open Exhibition since the society was formed in 1953. The society is made up...
12th May 2023
NEW PRODUCT – Signwriting Kit Update
Choosing you first signwriting materials can seem over whelming when there are so many options so we have launched three new sign...
Hooray!
Product added to basket!