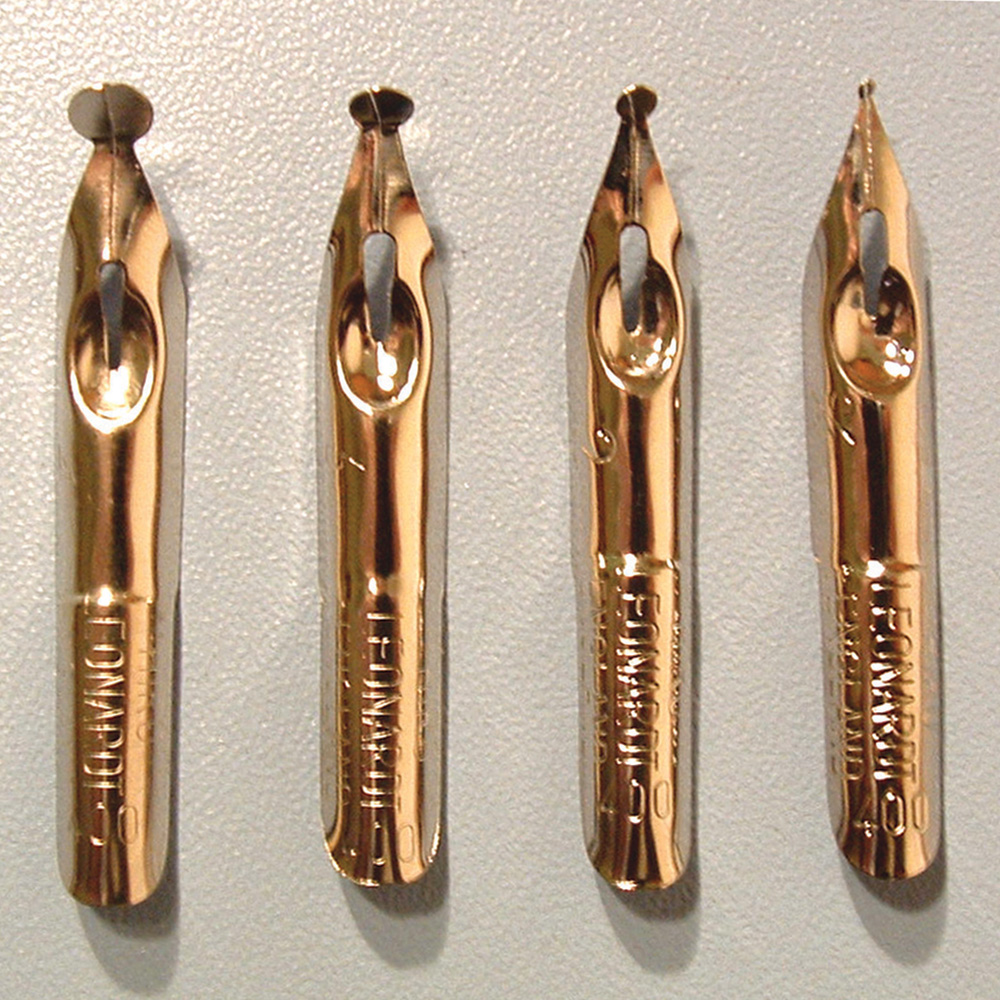 Manuscript : Ornamental Nibs
Out of stock
SELECT A COLOUR TO VIEW MORE INFORMATION
INFORMATION
Manuscript Pen Company Ltd is a family-owned company established in 1990 and based in Highley, Shropshire, England. Its history, through association with "D.Leonardt & Co", goes back as far as 1856. Producing under their own brand name "Manuscript", they are also the exclusive manufacturer of the "D.Leonardt & Co" and 'Hiro' range of dip nibs.
Manuscript's range includes a wide variety of writing instruments and seals and waxes for the art & craft, stationery, education and gift markets. They own the Stuart Houghton high quality giftware brand, which they acquired in 2004.
They are one of the few remaining Companies in the world specialising in the development, production and sale of fountain pen and dip pen based calligraphy products. They work in close association with CLAS, the Calligraphy and Lettering Arts Society.
In addition to calligraphy products, Manuscript has developed a range of Writing Instrument and Stationery products for both adults and the younger generation. Their colourfully designed range of decorated pens and markers are suitable both for educational purposes and practical everyday use.
Manuscript's product range can be found in a number of different retail sectors including specialist Art & Craft stores, Stationery stores, Department stores, Gift shops and Internet selling sites. Its products are sold in over 40 countries worldwide.
A history of Birmingham pen nib manufacture entitled "The Steel Pen Trade" has been written by the former Chairman of D.Leonardt & Co, Arthur Charles who acquired D. Leonardt & Co in 1949 and was the father-in-law of Manuscript's present Chairman and Managing Director, Nick Stockbridge.
In 2010 Nick Stockbridge's son Charles became the Commercial Director for Manuscript. He is the fifth generation of the family to be involved with the manufacture of pen nibs in the West Midlands.
PRODUCTS RELATED TO THIS ITEM
LATEST FROM THE BLOG
03rd September 2023
Classical Iconography Institute
Gold leaf has many uses across a broad range of historic and traditional art forms, one of the oldest of these is...
18th May 2023
Hertford Art Society
This year marked the Hertford Art Society 70th Open Exhibition since the society was formed in 1953. The society is made up...
12th May 2023
NEW PRODUCT – Signwriting Kit Update
Choosing you first signwriting materials can seem over whelming when there are so many options so we have launched three new sign...
Hooray!
Product added to basket!